We've talked a lot here about how many corner-lot properties make the perfect setting for a garden suite addition.
And last week we saw the first corner-lot garden suite application at City Hall.
And this week, a perfect property has hit the market, listed at just $850,000.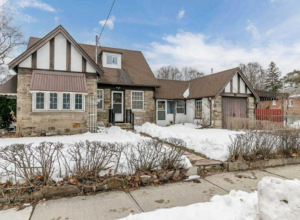 115 Scarlett Road is for sale, and the house on the lot leaves plenty of room for a garden suite to be placed behind it, facing the side street (Ellins Avenue).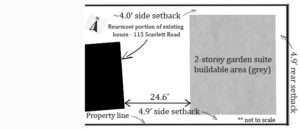 We visited the property last week, and determined that a garden suite up to 1,291 square feet (main plus upper) could be placed in the back/side yard.
Because the garden suite can face Ellins Avenue, potential tenants to and from the garden suite could move directly to Ellins Avenue, without having to enter the main house back or side yard.  For all intents and purposes, anyone looking at the lot from the corner, would likely just assume these were two houses on their own lots, but in reality, they would share one lot.
Real estate open houses will be held at the property on Saturday, March 11th, and Sunday, March 12th.  You can learn more about the offering HERE.
Listing agent Steve Flemming tells us offers will be held until Thursday, March 16th.